Maureen Dowd
in the NYT today
:
Michelle Obama, who landed in London with a huge Obama entourage, wearing a daffodil yellow dress and looking like a confident ray of U.S.A. sunshine.
So, I had to go look for it! Here it is: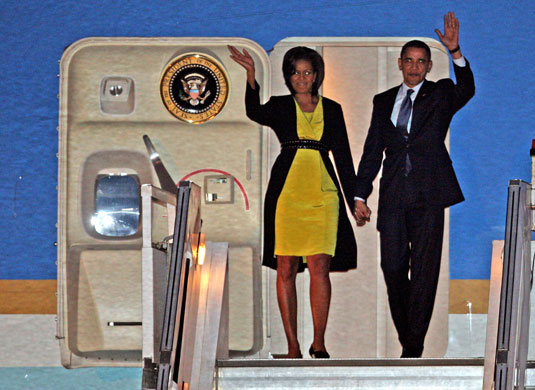 Stepping off Air Force One in London, we hoped Michelle and Barack might be wearing matching Topgun-style bomber jackets and aviators. Sadly, our hopes were dashed when we saw her in this Jason Wu silk sheath dress, with a black coat by Michael Kors, cinched in at the waist. Barack wore a suit.
That picture is from
a gallery in the Guardian
, which seems to indicate they are
following her fashion sense
every step of the way!
While most of the G20 dignatories wear suits, Michelle Obama wows the crowds in J Crew and Russell Brand attempts to go incognito
Also
this
!
What is everyone wearing? Who gets to go to the Ladies with Michelle Obama? Esther Addley introduces some of the G20 other halves!
Really... they're keeping track of who accompanies her to the loo?!! We're truly besotted with all things O, aren't we!!