National Poetry Month has ended but I hope to continue with blog posts about poetry every now and then. There is some material I have left over that I did not use last month and so will post a poetry related post every Friday this month.
Last month, while writing the post about Tess Gallagher, I found that she has a new book - Midnight Lan

tern -

New and Collected Poems and so I got it from the public library. There I had re-read some of the poems from her previous book, Dear Ghosts, which I seem to have forgotten -- except remembering it was full of word weighed down in melancholy and cast as elegies: to Ray (of course), to her mother, and about recovering from cancer. Since I had forgotten some of the poems, you can say found them anew. So here then are two poems by Tess Gallagher that I thought I'd share today.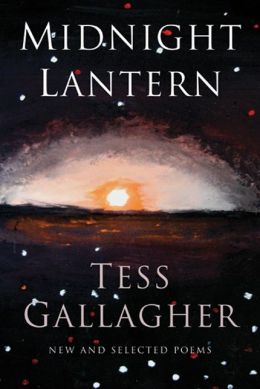 Little Match Box
by Tess Gallagher

And if there were two moons,
who would sleep when one
passed before the other
and took it in
on its dark side? Wouldn't
some extra light ray out
around the sustaining one?
Wouldn't you sense
the two in one, even if you'd
never seen them parted?



Sometimes a glory




is just that - a guessing-into




the seen, noticing




the fringe of presence




when it comes, trying to match




its fervency by something




as tangible, something




only you are equal to.



Choices

by Tess Gallagher




I go to the mountain side
of the house to cut saplings,
and clear a view to snow
on the mountain. But when I look up,
saw in hand, I see a nest clutched in
the uppermost branches.
I don't cut that one.
I don't cut the others either.
Suddenly, in every tree,
an unseen nest
where a mountain
would be.