Both of today's poets - Agha Shahid Ali and A. K. Ramanujan - were born in India but spent a better part of their lives in the United States.
Agha Shahid Ali is perhaps Kashmir's most famous poet in the Western world, having lived in Amherst, Massachusetts, where he sadly died at the young age of 52. In addition to translating the works of poets like Faiz Ahmed Faiz (discussed in the
post for yesterday
) from Urdu, he also popularized
the ghazal form of poetry
in English. (I should add here that I am yet to develop a liking for the ghazal when written in English. It is not that I have read ghazals in their original as I do not know Urdu. Perhaps, I am biased by having read and enjoyed Ghalib's poetry and ghazals, which even in translation, are, in my opinion, far superior to any ghazals written in English that I have read.)
Agha Shahid Ali (Born: February 4 1949, New Delhi, India - Died: 8 December 2001, Amherst, Massachusetts)

Here then are four of his poems:

Ghazal
by Agha Shahid Ali

(for Daniel Hall)

Feel the patient's heart
Pounding—oh please, this once—
—James Merrill

I'll do what I must if I'm bold in real time.
A refugee, I'll be paroled in real time.

Cool evidence clawed off like shirts of hell-fire?
A former existence untold in real time ...

The one you would choose: Were you led then by him?
What longing, O Yaar, is controlled in real time?

Each syllable sucked under waves of our earth—
The funeral love comes to hold in real time!

They left him alive so that he could be lonely—
The god of small things is not consoled in real time.

Please afterwards empty my pockets of keys—
It's hell in the city of gold in real time.

God's angels again are—for Satan!—forlorn.
Salvation was bought but sin sold in real time.

And who is the terrorist, who the victim?
We'll know if the country is polled in real time.

"Behind a door marked DANGER" are being unwound
the prayers my friend had enscrolled in real time.

The throat of the rearview and sliding down it
the Street of Farewell's now unrolled in real time.

I heard the incessant dissolving of silk—
I felt my heart growing so old in real time.

Her heart must be ash where her body lies burned.
What hope lets your hands rake the cold in real time?

Now Friend, the Belovèd has stolen your words—
Read slowly: The plot will unfold in real time.

NOTES: Yaar: Hindi word for friend.

Vacating an Apartment
By Agha Shahid Ali

1
Efficient as Fate,
each eye a storm trooper,

the cleaners wipe my smile
with Comet fingers
and tear the plaster
off my suicide note.

They learn everything
from the walls' eloquent tongues.

Now, quick as genocide,
they powder my ghost for a cinnamon jar.

They burn my posters
(India and Heaven in flames),

whitewash my voicestains,

make everything new,
clean as Death.

2
When the landlord brings new tenants,
even Memory is a stranger.

The woman, her womb solid with the future,
instructs her husband's eyes
to clutch insurance policies.

They ignore my love affair with the furniture,
the corner table that memorized
my crossed-out lines.

Oh, she's beautiful,
a hard-nippled Madonna.

The landlord gives them my autopsy;
they sign the lease.

The room is beating with bottled infants,
and I've stopped beating.

I'm moving out holding tombstones in my hands.


Stationery
by Agha Shahid Ali

The moon did not become the sun.
It just fell on the desert
in great sheets, reams
of silver handmade by you.
The night is your cottage industry now,
the day is your brisk emporium.
The world is full of paper.

Write to me.


Not All, Only a Few Return
by Agha Shahid Ali

(after Ghalib)

Just a few return from dust, disguised as roses.
What hopes the earth forever covers, what faces?

I too could recall moonlit roofs, those nights of wine—
But Time has shelved them now in Memory's dimmed places.

She has left forever, let blood flow from my eyes
till my eyes are lamps lit for love's darkest places.

All is his—Sleep, Peace, Night—when on his arm your hair
shines to make him the god whom nothing effaces.

With wine, the palm's lines, believe me, rush to Life's stream—
Look, here's my hand, and here the red glass it raises.

See me! Beaten by sorrow, man is numbed to pain.
Grief has become the pain only pain erases.

World, should Ghalib keep weeping you will see a flood
drown your terraced cities, your marble palaces.
A few more of
his poems are at the Poetry Foundation
but instead, I strongly recommending reading the recently released
The Veiled Suite - Collected Poems of Agha Shahid Ali
. If nothing else, definitely read his book of poems,
The Country Without A Post-Office
, with some great poems set against the backdrop of the tragedy that is Kashmir.
The second poet for today, A. K. Ramanujan, like Agha Shahid Ali, was born in India but spent a better part of his life in the US. Like Ali, he also translated the works of many leading authors and poets of India from their native languages (Kannada and Tamil, in the case of Ramanujan) and was also
a leading scholar
on Indian folklore studies, linguistics, and South Asian Studies. (See
this link
for some of his translations of Tamil poetry.)
"Again, here it comes, the nothing,
the zero where numbers die or begin,
the sunless day, the moonless month,
where sounds do not become words
nor words the rivals of silence."

- A. K. Ramanujan (

Salamanders

)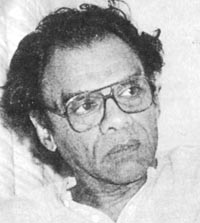 A. K. Ramanujan
(Born: 1929, Mysore, India - Died: July 13 1993, Chicago, USA)
And now onto a few of his poems. I love this first poem, perhaps moreso because the self-effacement and negation of the self (nihilism?) reminds me of one of my favorite poems - Mark Strand's
Keeping Things Whole.


Self-Portrait
by A. K. Ramanujan

I resemble everyone
but myself, and sometimes see
in shop-windows
despite the well-knownlaws
of optics,
the portrait of a stranger,
date unknown,
often signed in a corner
by my father.
And another short but interesting poem:



Still Life
by A. K. Ramanujan

When she left me
after lunch,I read
for a while.
But I suddenly wanted
to look again
and I saw the half-eaten
sandwich,
bread,
lettuce and salami,
all carrying the shape
of her bite.
And now a poem that starts in Madurai, a city in Tamil Nadu, India....
A River
by A. K. Ramanujan

In Madurai,
city of temples and poets,
who sang of cities and temples,
every summer
a river dries to a trickle
in the sand,
baring the sand ribs,
straw and women's hair
clogging the watergates
at the rusty bars
under the bridges with patches
of repair all over them
the wet stones glistening like sleepy
crocodiles, the dry ones
shaven water-buffaloes lounging in the sun
The poets only sang of the floods.

He was there for a day
when they had the floods.
People everywhere talked
of the inches rising,
of the precise number of cobbled steps
run over by the water, rising
on the bathing places,
and the way it carried off three village houses,
one pregnant woman
and a couple of cows
named Gopi and Brinda as usual.

The new poets still quoted
the old poets, but no one spoke
in verse
of the pregnant woman
drowned, with perhaps twins in her,
kicking at blank walls
even before birth.

He said:
the river has water enough
to be poetic
about only once a year
and then
it carries away
in the first half-hour
three village houses,
a couple of cows
named Gopi and Brinda
and one pregnant woman
expecting identical twins
with no moles on their bodies,
with different coloured diapers
to tell them apart.

And finally let me end with a poem about Chicago, the city where he lived and died...


Chicago Zen
by A. K Ramanujan

i
Now tidy your house,
dust especially your living room
and do not forget to name
all your children.

ii
Watch your step. Sight may strike you
blind in unexpected places.

The traffic light turns orange
on 57th and Dorchester, and you stumble,

you fall into a vision of forest fires,
enter a frothing Himalayan river,

rapid, silent.

On the 14th floor,
Lake Michigan crawls and crawls

in the window. Your thumbnail
cracks a lobster louse on the windowpane

from your daughter's hair
and you drown, eyes open,

towards the Indies, the antipodes.
And you, always so perfectly sane.

iii
Now you know what you always knew:
the country cannot be reached

by jet. Nor by boat on jungle river,
hashish behind the Monkey-temple,

nor moonshot to the cratered Sea
of Tranquillity, slim circus girls

on a tightrope between tree and tree
with white parasols, or the one

and only blue guitar.

Nor by any
other means of transport,

migrating with a clean valid passport,
no, not even by transmigrating

without any passport at all,
but only by answering ordinary

black telephones, questions
walls and small children ask,

and answering all calls of nature.

iv
Watch your step, watch it, I say,
especially at the first high
threshold,

and the sudden low
one near the end
of the flight
of stairs,

and watch
for the last
step that's never there.